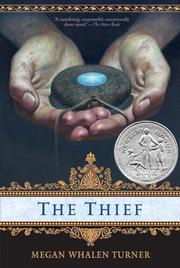 The Thief is a novel by Megan Whalen Turner. It is the first in a series of books, followed by The Queen of Attolia, The King of Attolia, and A Conspiracy of Kings.
The Thief was a Newbery Honor Book in 1997.
A young thief named Gen is released from prison by the magus of Sounis, the king's scholar. The magus finds Gen filthy, uncouth, and insolent, but he needs Gen's skills as a thief. Without telling Gen where they are going, he takes him out of the city. They are joined by the magus's two apprentices, Sophos (the younger and kinder of the two) and Ambiades, and by Pol, a soldier.
nope. The journey is dangerous, and the travelers grate on each others' nerves. Gen risks death in a daring attempt to steal the stone from an almost inaccessible temple, while the entire party is pursued by the Guard of Attolia.
None of the main characters is exactly what he seems to be. By the end of the book, secrets are revealed, relationships adjusted, and respect between the travelers is lost and won.
Cover Gallery
Edit
References
Edit