| | |
| --- | --- |
| | This article contains Spoilers from the book, A Conspiracy of Kings |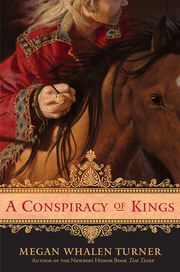 A Conspiracy of Kings is the sequel to The King of Attolia and focuses on Sophos, the missing heir to the Sounisian Throne.
The story alternates between first and third person; the prologue, Sophos' time in Attolia, and the conclusion is written in third person, and switches to first person for Sophos' adventures in Sounis, which he is relating to the Queen of Eddis.
Sophos, the Magus' once studious protegé, finds himself much out of his element as he and his family are ambushed in his villa. Surprising both his attackers and himself, Sophos at first succeeds in evading his attackers and hiding his mother and sisters, but is soon betrayed by his servants, who deemed surrendering to be the most survivable situation. Mistakenly sold into slavery, Sophos finds himself content with manual labor and forms an unlikely camaraderie with the other slaves and workhands. However, eventually, when faced with a choice between a life of contentment or one of influence, capable of making changes much needed by Sounis, he chooses the latter, all the while wondering, "if people always choose what will make them unhappy."
Soon after a harrowing escape from the Baron Hanaktos who he had been working under, Sophos unexpectedly finds himself the King of Sounis. The state he has inherited is far from ideal. Not only is Sounis deadlocked in war with Attolia, it is also being torn from the inside by internal discontent and a civil war. With neither the monetary resources nor the man power to properly secure his throne, he is faced with several options, each with heavy consequences. Aided by the Magus, Sophos decides to turn to his old friend: Eugenides, the Thief of Eddis whom Sophos traveled with years before and who is now the King of Attolia.
Cover Gallery
Edit
References
Edit
Ad blocker interference detected!
Wikia is a free-to-use site that makes money from advertising. We have a modified experience for viewers using ad blockers

Wikia is not accessible if you've made further modifications. Remove the custom ad blocker rule(s) and the page will load as expected.